Center for the Study of Success (CSS)
Success: individual, corporate, public service, global.
Services

Individual:
Telephone and in-person consultation for hourly professional rate. As seen in Glamour, Harvard Magazine, Christian Science Monitor, and on radio and TV.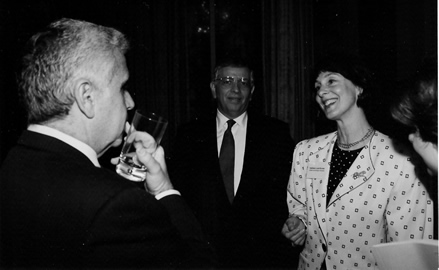 Kathleen Lusk Brooke interviewing Mel Karmazin, former CEO of both CBS Television and Sirius, and David Stern, former Commissioner of the NBA

Corporate:
Nominated for the Booz-Allen & Hamilton Financial Times Best Global Business Book award, Mobilizing the Organization: Bringing Strategy to Life (London: Prentice Hall, 1996) featured work by the Center for the Study of Success. Co-authors George H. Litwin, founder of the field of organizational climate and former professor, Harvard Business School, John J. Bray, head, Forum Europe, and Kathleen Lusk Brooke describe their mobilization model: Purpose, Infrastructure, Guidance, Resourcing. For more information, visit http://www.amazon.com. If you are interested in knowing more about consulting services, please contact us. Corporate clients are always confidential and include aerospace, automotive, banking, construction, engineering, and media industries.


Kathleen Lusk Brooke in Japan for an event

Public Service:
CSS believes in the principle of public service, and participates in the Prison Ashram program. Kathleen herself teaches a weekly class for women inmates in a correctional facility.


Kathleen Lusk Brooke teaching yoga in class

Global:
In 2006, the Center's founder, Kathleen Lusk Brooke and Frank P. Davidson, American co-founder of the Channel Tunnel Study Group and Professor Emeritus, MIT, published their decade-long study of the world's most successful large scale engineering projects that changed the face of the earth - and its history. From Solomon's Temple to the Suez Canal, from the Grand Canal to the Channel Tunnel and COMSAT, Building the World is an important new resource on the world's most iconic building and engineering projects. For more information, please visit http://www.buildingtheworld.com.


Co-Authors Kathleen Lusk Brooke and Frank P. Davidson presenting a first-edition of Building The World to the Signet Society in Cambridge, Massachusetts


About

Kathleen Lusk Brooke taught Success at Harvard and Failure at MIT before founding, in 1976, the Center for the Study of Success (CSS), a thinktank and consulting firm examining individual, corporate and global strategies for success. She was commended and honored for this work when selected for Beautiful Minds, a photographic exhibit of the top 200 intellectual leaders of Boston in honor of the millennium.
Contact Us

The Center has offices in the Berkshires, close to New York City and Boston. We also have an historic residential conference center on Cape Cod, recently featured on HGTV. To arrange an initial consultation, please contact us at:

Tel: 508-728-6390
Fax: 413-232-0120
centerforstudyofsuccess@post.harvard.edu


Purrington House on Cape Cod


Downloads

Success and Failure - Worcester Polytechic Institute (2020) (PPT)